AC Repair, Replacement, & More in Schertz, TX
When it comes to maintaining a more comfortable and cooler indoor environment, trust no other than the reliable AC repair, replacement, and installation services of ASC Heating & Air in Schertz, TX. We take pride in our wide array of professional heating, ventilation, and air conditioning (HVAC) services. Our offerings extend beyond just maintaining comfortable temperatures – we help you preserve the quality of your indoor air and optimize energy efficiency through our many AC services for homes, businesses, and more.
Cooling Comfort: Our AC Repair Services
Here in Schertz, Texas, summers can be challenging. Heatwaves can render a faulty air conditioning system inoperable, which is what makes swift and efficient AC repair so essential. At ASC Heating & Air, we are not just offering HVAC repair services; we offer peace of mind. Our team understands how crucial it is to restore your AC system to its optimal functionality, and we do it quickly, efficiently, and professionally.
Our team of licensed, experienced HVAC technicians will diagnose the problem and provide a comprehensive solution – no matter the complexity of the issue. From refrigerant leaks to thermostat malfunctions, our HVAC experts are equipped to handle numerous AC issues.
Request an Appointment
Need a service? We'll accommodate your schedule. Call us at (210) 934-9341 or drop us a line below.
Renew Your System: AC Replacement Services
At ASC Heating & Air, we understand that AC systems, like all machines, have a finite lifespan. That is why we offer top-tier AC replacement services in Schertz, TX. In many cases, replacing your old, outdated unit with a more efficient model can save you considerable money in the long run. Our team can help guide you through this decision-making process, assessing the condition of your current system, your property's size, and your energy usage patterns.
As a top choice for HVAC services, ASC Heating & Air offers an impressive selection of high-efficiency models from top manufacturers. We can help you choose a model that suits your needs, ensuring it is installed correctly in order to function at peak performance.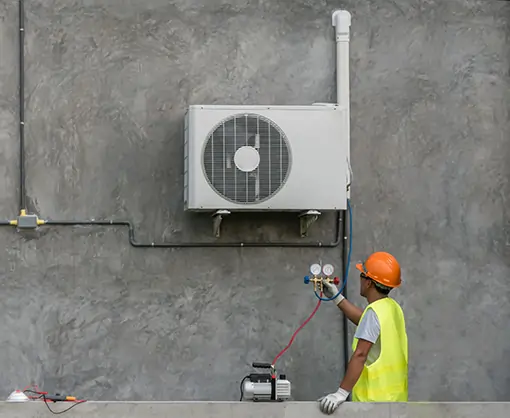 Helping to Ensure Your Comfort: AC Installation Services
New property? Upgrading your AC system? Our professional AC installation services are here to help ensure your new unit works seamlessly, providing you with the comfort you deserve in Schertz, Texas. Proper installation is key to the longevity and efficiency of your air conditioning system. Our highly trained technicians will install your system following the industry's best practices, helping to ensure you get the most out of your investment.
At ASC Heating & Air, we also offer various promotions as well as financing to help make our HVAC services as affordable and accessible as possible for homeowners, businesses, and more in Schertz.
Why Choose ASC Heating & Air for HVAC Services in Schertz, Texas?
The decision to select a professional AC services provider should not be taken lightly. So, why choose ASC Heating & Air for your heating and cooling needs in Schertz, TX?
Transparency
As ASC Heating & Air, we believe in honest, open communication. This means clear pricing without hidden charges and explaining our work in terms that you can understand.
Quality
Our commitment to quality is not limited to our products; it extends to our services as well. From your first call to post-service follow-up, we always strive for excellence in every interaction.
Reliability
Our customers have come to depend on our swift, efficient AC services. We understand that AC issues can cause major disruptions to your life and well-being, so we aim to resolve your HVAC problems as quickly and effectively as possible.
Experience 
We boast years of hands-on experience providing HVAC solutions to homes and businesses in Schertz and several other Texas communities. Our seasoned HVAC technicians have dealt with nearly every imaginable AC issue. This, along with their in-depth training, helps ensure that our team can handle your heating and cooling needs with the utmost professionalism.
Contact Us Today to Schedule HVAC Repair, Installation, or Replacement Today!
For all of your AC and HVAC needs in Schertz, Texas, such as AC repair and replacement, trust the team at ASC Heating & Air. We want all of our professional services to not only meet your needs but exceed your expectations for HVAC services. So contact us today to learn more and schedule AC repair, replacement, or installation!
Our Service Areas
With a foundation built on the principles of honesty, quality, craftsmanship, and integrity, our business strives to set itself apart from the hoard of companies clamoring for attention in the Alamo City and the greater San Antonio include:
Selma
Kirby
Terrell Hills
Balcones Heights