AC Repair, Replacement, & Installation in Leon Valley, TX
At ASC Heating & Air, our team of HVAC professionals offers AC repair, replacement, and installation in Leon Valley, TX. When it comes to maintaining a comfortable and pleasant environment in your home or business, a reliable and efficient air conditioning system is essential. In Leon Valley, Texas, ASC Heating & Air is the go-to choice for all your heating and cooling needs. With a stellar reputation for quality service, skilled technicians, and a commitment to customer satisfaction, ASC Heating & Air is your one-stop solution for HVAC repair, HVAC replacement, and HVAC installation services. Details include:
AC Repair: Restoring Comfort and Efficiency
Is your air conditioner struggling to keep your space cool or experiencing frequent breakdowns? ASC Heating & Air has a team of experienced technicians who specialize in diagnosing and repairing AC issues promptly and effectively. Whether it is a faulty compressor, refrigerant leak, electrical malfunction, or nearly any other problem, our experts have the knowledge and tools to fix it. We understand the importance of a properly functioning AC system, especially during scorching Leon Valley, Texas, summers, and our goal is to restore comfort and efficiency to your home or business with our professional AC repair.
Request an Appointment
Need a service? We'll accommodate your schedule. Call us at (210) 934-9341 or drop us a line below.
AC Replacement: Upgrading Your Cooling System
If your air conditioning unit is outdated, inefficient, or beyond repair, it may be time for a replacement. ASC Heating & Air offers professional AC replacement services tailored to your specific needs. Our team will carefully assess your space, recommend the most suitable options, and guide you through the selection process.
We work with top-quality AC brands, ensuring you receive a reliable and energy-efficient system that meets your cooling requirements. With our expertise and attention to detail, we help guarantee a seamless HVAC replacement process that aids in enhancing the comfort and value of your Leon Valley property.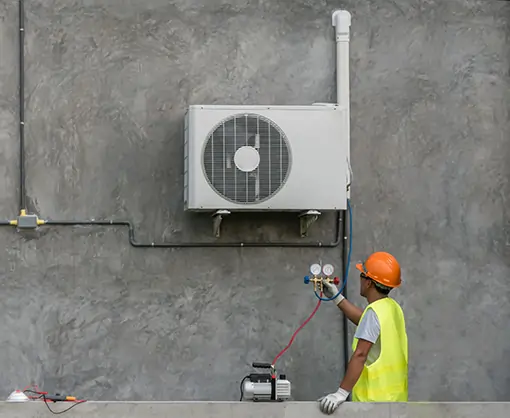 AC Installation: Expertise You Can Rely On
Installing a new air conditioning system requires precision and technical know-how. Fortunately, at ASC Heating & Air, our certified HVAC technicians have years of experience in AC installations. We prioritize the safety and satisfaction of our customers by adhering to industry standards and employing efficient installation practices. Our team will work closely with you to understand your needs, recommend the appropriate system size and type, and ensure a seamless installation process from start to finish. With ASC Heating & Air, you can trust that your HVAC installation will be performed to the highest standards, helping to guarantee optimal performance and longevity.
Why Choose ASC Heating & Air for AC Services in Leon Valley, Texas?
Choosing the right assistance for your heating and cooling needs is essential. Thankfully, there are a number of significant reasons why you should choose the team here at ASC Heating & Air for AC repair, replacement, and installation in Leon Valley, TX, including the following:
Expertise and Experience
ASC Heating & Air takes pride in having a team of skilled professionals who are extensively trained and knowledgeable in the field of HVAC services. With years of experience under our belt, we have the expertise to handle a wide range of AC issues efficiently and effectively.
Customer Satisfaction
We prioritize the satisfaction of our customers above all else. From the moment you contact us, our friendly staff will provide personalized attention and assist you with any questions or concerns you may have. We strive to exceed your expectations by delivering exceptional service, transparent pricing, and prompt responses to your AC service needs.
Quality and Reliability
At ASC Heating & Air, we believe in delivering nothing but the best. We work with reputable AC brands and use high-quality equipment and materials for all our installations and repairs. Our commitment to excellence helps ensure that your AC system performs optimally and reliably, providing you with long-lasting comfort in Leon Valley, TX.
Timely and Efficient Service
We understand the urgency of AC issues, especially during peak summer months. ASC Heating & Air is known for its prompt and efficient service. Our technicians arrive on time, equipped with the necessary tools and expertise to diagnose and resolve AC problems swiftly. We value your time and strive to minimize any disruptions to your daily routine.
Schedule AC Services in Leon Valley by Contacting Us Today!
When it comes to professional AC services in Leon Valley, Texas, ASC Heating & Air stands out as a reliable and trustworthy choice for AC repair and more. With a comprehensive range of services, including HVAC repair, replacement, and installation, we have the expertise and experience needed to help keep your home or business comfortable throughout the year. 
Contact us today to schedule an appointment or consultation!
Our Service Areas
With a foundation built on the principles of honesty, quality, craftsmanship, and integrity, our business strives to set itself apart from the hoard of companies clamoring for attention in the Alamo City and the greater San Antonio include:
Selma
Kirby
Terrell Hills
Balcones Heights