AC Installation in San Antonio, TX
At ASC Heating & Air, our HVAC professionals offer AC installation for homes and businesses in San Antonio, TX. So if you are living in the San Antonio area and are tired of the hot and humid weather, our air conditioning installation service can help! Our professional AC installation can provide you with several benefits, including cooler, more comfortable indoor spaces, so consider scheduling AC system installation with us today! 
Keeping Indoors Spaces Cooler with Air Conditioning
AC installation in San Antonio, TX, is essential to help keep your home or business cool and comfortable. San Antonio is known for its hot and humid weather, especially in the summer months. With temperatures reaching up to 100°F, air conditioning is a must-have in this area. Thankfully, AC installation from us at ASC Heating & Air can help ensure that your home or business stays cooler and more comfortable, even on the hottest days of the year.
The benefits of new AC installation in San Antonio, TX, are numerous! Yet, the most obvious benefit is that it keeps your indoor spaces cooler. This can dramatically improve your quality of life, especially if you have children, elderly family members, or pets. Effective air conditioning can also help reduce indoor humidity levels, which can be beneficial for those with respiratory problems.
Request an Appointment
Need a service? We'll accommodate your schedule. Call us at (210) 934-9341 or drop us a line below.
Effective & Efficient Cooling with a New Air Conditioner
New air conditioners are more efficient and effective than older models, which can help home and business owners save money on their energy bills. Modern AC units use advanced technology and better materials to provide a more effective cooling performance while using less energy. In doing so, new AC installation can actually help you save money on your energy bills in the long run.
Additionally, new AC systems are typically equipped with smart thermostats that allow business owners and homeowners to control their property's indoor temperature more efficiently. By upgrading to a new air conditioner with our professional installation service, home and business owners can enjoy better cooling performance along with potentially reduced energy bills.
AC System Installation Helps Improve Indoor Air Quality in San Antonio, TX
AC system installation from the experts at ASC Heating & Air can also help to improve the air quality in your home or business. Air conditioners help to filter out pollutants and allergens, such as dust, pollen, and pet dander. This can be especially beneficial for those with allergies or asthma. Our AC installation can also help increase the air circulation in your home or business, which can reduce the concentration of pollutants and improve indoor air quality. So consider a new AC system and our installation service to help improve the air quality in your indoor spaces!
At ASC Heating & Air, our HVAC technicians also offer AC maintenance to help ensure your new air conditioner continues to operate as efficiently and effectively as possible to provide your property with the cooling power and improved air quality you need.
Professional Installation from ASC Heating & Air
When it comes to AC system installation in San Antonio, TX, there are several types of air conditioners to choose from. The most common types are window units, central air conditioning systems, and ductless mini-split systems. Each of these types of AC units works well for different scenarios and settings. For example, window units are an ideal option if you have a small home or apartment. They are easy to install and can be removed when not in use. However, they are not quite as efficient as central air conditioning systems and can be somewhat noisy.
Central air conditioning systems are perhaps the most popular type of AC system in San Antonio, TX. They are efficient and can cool your entire home or business. They also help to improve indoor air quality and can be controlled with a thermostat. However, because they are more effective and more expansive, they are more expensive to install than window units and require ductwork.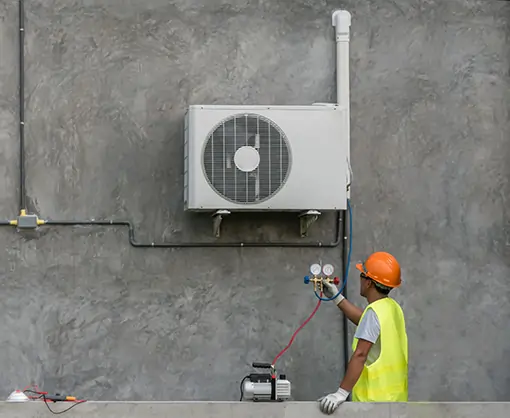 Ductless mini-split systems are another option for AC system installation. They are ideal for homes and businesses without ductwork or those with limited space. They are energy-efficient and can be controlled with a remote. However, they are also more expensive than window units and may not be suitable for larger homes and businesses.
No matter which type of air conditioner system you choose for your property, the team here at ASC Heating & Air is capable of professionally installing it in San Antonio, TX, maximizing its potential for efficiency and effectiveness!
Contact Us to Schedule AC Installation in San Antonio, TX Today!
Professional AC installation in San Antonio, TX, is available from the experts at ASC Heating & Air. Our AC system installation service can help cool your indoor spaces, improve indoor air quality, and reduce the concentration of pollutants. So contact us today to schedule AC installation for your home or business! And be sure to check out our promotions page for HVAC service deals!
Testimonials
Our Customer Reviews
---
Described by our clients as reasonable and honest, we love to build relationships in the local community that make a lasting impact on people's lives. ASC Heating & Air
is rated
4.9 out of 5.0 based on 177+ reviews.
"Ron assisted me with determining what was wrong with the A/C unit in TX, while I am in FL. He was more than willing to work with me in spite of me being a remote landlord. Tenants were happy with Ron's expertise and speed of response."
Deena S.
"This guy was prompt, professional and eager to educate me on my AC system. He explained things very simply without losing me. He fixed my unit and checked for other problems quickly. He was there for maybe 30 minutes, then gone. I feel more knowledgeable now about my system."
Brown D.
"Would recommend ASC for any heating or cooling issues. I have used them for minor repairs as well as a new system installation and I'm always pleased with their work. Ron Carter and the crew know their stuff."
B. Wyatt
Our Service Areas
With a foundation built on the principles of honesty, quality, craftsmanship, and integrity, our business strives to set itself apart from the hoard of companies clamoring for attention in the Alamo City and the greater San Antonio include:
Schertz
Leon Valley
Selma
Kirby
Terrell Hills
Balcones Heights
Castle Hills