AC Unit Replacement in San Antonio, TX
To help ensure consistent cooling power for local homes and businesses, the team at ASC Heating & Air offers professional AC unit replacement in San Antonio, TX. The summer heat can be brutal in Texas, and with temperatures regularly reaching triple digits, having a functioning air conditioning unit is essential for staying comfortable during the hot months. So if your AC unit is not working as well as it used to or is completely inoperable, it may be time to consider a professional AC unit replacement in San Antonio, TX from the HVAC experts at ASC Heating & Air.
Replacement AC Services in San Antonio, TX From ASC Heating & Air
At ASC Heating & Air, our highly skilled and experienced HVAC technicians know all the ins and outs of air conditioning, including when it is time to replace an AC system in San Antonio, TX. Not only will our team remove your old, faulty unit, but we will professionally install your new air conditioner. With our expert knowledge, tools, and techniques, we can help ensure that your AC unit is replaced properly and that your new air conditioner is ready to provide you with efficient and effective cooling to maximize your comfort all summer long.
And by scheduling routine maintenance for your new system, our HVAC technicians can help ensure your AC unit is equipped to keep you cooler and more comfortable for years to come!
Request an Appointment
Need a service? We'll accommodate your schedule. Call us at (210) 469-9023 or drop us a line below.
Discounts
Senior Citizen
Educator
Military and Veteran
First Responder
3% Discount if paid by cash or check!
Electrical Rebates
CPS Energy
Federal Tax Rebates
Financing
0% Financing Available
2nd Chance Financing Available
Best in class warranty
10 year parts and labor warranty on most systems
Better Indoor Air Quality
Over time, an old AC unit can accumulate dust, dirt, and other debris that can negatively affect the indoor air quality in your home or business. Replacing your AC unit can improve the air quality in your indoor spaces by removing these contaminants and providing cleaner air. Additionally, newer AC units come with advanced filtration systems that can help remove allergens and other potentially harmful particles from the air.
Improved Comfort
At ASC Heating & Air, our team can help increase your comfort at your home or business with our AC unit replacement service in San Antonio, TX. For example, if your old AC unit is struggling to keep up with the Texas heat, it can lead to an uncomfortable living or working environment. By upgrading to a new air conditioner, you can help ensure that your home or business is consistently cooler and more comfortable. This can help you sleep better at night and feel more productive during the day.
Reduced Repair Costs
If your old AC unit is frequently breaking down, it is almost always time to consider a replacement. While repairing an old AC unit may seem like a cheaper option in the short term, it can add up significantly over time! By investing in a new AC unit and professional replacement services from us at ASC Heating & Air, you can avoid costly repairs and enjoy reliable cooling in San Antonio, TX for years to come.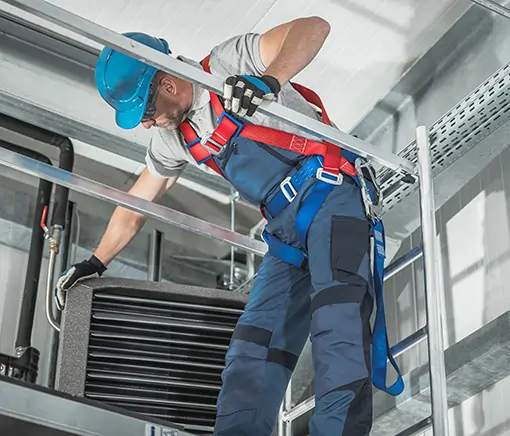 Environmental Benefits
By upgrading to a new air conditioner, you can also help reduce your carbon footprint and contribute to a cleaner environment. Newer AC units use environmentally friendly refrigerants that are less harmful to the ozone layer. Additionally, newer, more efficient AC units use less energy, which reduces greenhouse gas emissions and helps combat climate change. It can also help lower your monthly energy bill while still keeping your indoor environment cooler!
Increased Energy Efficiency
Older AC units tend to be less energy-efficient than newer models. This means that your old AC unit may be using more energy to cool your home or business, resulting in higher electricity bills. A new AC unit replacement in San Antonio, TX, will not only provide better cooling performance but also use less energy. This can lead to significant cost savings on your monthly energy bills!
Schedule AC Unit Replacement in San Antonio, TX Today!
Professional AC unit replacement in San Antonio, TX is available from the HVAC team at ASC Heating & Air. Our air conditioner replacement service can provide numerous benefits, including increased energy efficiency, better indoor air quality, improved comfort, reduced repair costs, and environmental benefits. So if your old AC unit is not functioning properly or is costing you more in repairs and energy bills, contact us today to schedule an AC unit replacement! Be sure to check out our promotions page for potential deals and savings!
Testimonials
Our Customer Reviews
---
Described by our clients as reasonable and honest, we love to build relationships in the local community that make a lasting impact on people's lives. ASC Heating & Air
is rated
4.9 out of 5.0 based on 177+ reviews.
"Ron assisted me with determining what was wrong with the A/C unit in TX, while I am in FL. He was more than willing to work with me in spite of me being a remote landlord. Tenants were happy with Ron's expertise and speed of response."
Deena S.
"This guy was prompt, professional and eager to educate me on my AC system. He explained things very simply without losing me. He fixed my unit and checked for other problems quickly. He was there for maybe 30 minutes, then gone. I feel more knowledgeable now about my system."
Brown D.
"Would recommend ASC for any heating or cooling issues. I have used them for minor repairs as well as a new system installation and I'm always pleased with their work. Ron Carter and the crew know their stuff."
B. Wyatt
Our Service Areas
With a foundation built on the principles of honesty, quality, craftsmanship, and integrity, our business strives to set itself apart from the hoard of companies clamoring for attention in the Alamo City and the greater San Antonio include:
Schertz
Leon Valley
Selma
Kirby
Terrell Hills
Balcones Heights
Castle Hills