$29 Service Call for First Time Customers
(Just mention that you saw this on the website.)
Your Highly Rated San Antonio Heating & Air Company
At ASC Heating & Air, our HVAC experts provide homes and commercial businesses in San Antonio, TX with air conditioning and heating system repair. We also offer professional AC and heating installation as well as HVAC maintenance. Schedule service with our family-owned and operated business today! 

Address issues with heating & air systems with our skillful repair services.
Let the professionals at ASC install your new AC or furnace in San Antonio, TX
Maximize cooling and heating efficiency with our routine, preventative HVAC maintenance.
Why Choose ASC Heating & Air for HVAC Services?
For homes and businesses in San Antonio, TX in need of HVAC services like air conditioner repair, there are several reasons to choose the experts from ASC Heating & Air.
HIGHLY RATED HVAC COMPANY
Our team has over 200 5-star reviews raving about the quality of our heating and cooling services.
PROMPT & UPFRONT PRICING
Our HVAC technicians provide a price on their first visit and always before starting a job.
FINANCING AVAILABLE
From great credit to credit in repair, we offer multiple financing options to help ensure you get the cooling and heating comfort you need.
ABOVE STANDARDS
At ASC Heating & Air, we carry over a dozen HVAC industry certifications, making us a cut above the rest.
GREAT WARRANTIES AVAILABLE
On select services, we offer 5 to 10-year factory warranties as well as up to 10-year labor warranties.
1 YEAR UNIT SATISFACTION GUARANTEE
If your new unit does not work to your satisfaction, you get a free replacement during the first year. Contact us for more information!
San Antonio, TX Heating & Air Conditioning Repair
Dysfunctional or broken-down air conditioners can be a nightmare, especially here in South Central Texas. Fortunately, at ASC Heating & Air, our team of HVAC experts provides friendly and skillful AC repair in San Antonio, TX. Our HVAC technicians always perform thorough inspections to find the root cause of your AC issue. From there, they can address the problem with your air conditioner and restore cooling comfort to your home or commercial business as quickly as possible. 
We also offer high-quality heating repair in San Antonio, TX. Our HVAC technicians have the training and experience to inspect and address issues with a variety of heating systems. So for industry-leading furnace and heat pump repair in San Antonio, TX, turn to the experts at ASC Heating & Air!
AC, Heat Pump, & Furnace Installation in San Antonio, TX
The team from ASC Heating & Air not only repairs dysfunctional heaters and cooling systems; we also provide AC, heat pump, and furnace installation in San Antonio, TX! Our HVAC technicians have the expertise necessary to perform professional installations that not only help ensure the efficiency of your new heating or cooling system, but they also help ensure that it will work effectively for years to come. We are familiar with all types of heaters as well as AC units. In fact, at ASC Heating & Air, we are certified dealers of Trane and York products, which gives us access to some of the best air conditioners and heaters on the market.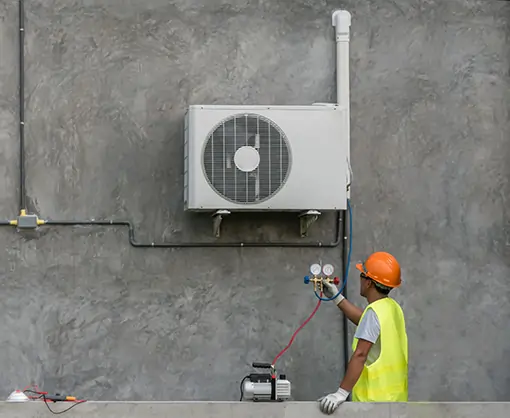 Routinely Scheduled HVAC Maintenance in San Antonio, TX
Whether you have a newly installed air conditioner or an aging heat pump, it is essential to schedule HVAC maintenance. All HVAC appliances require maintenance. It not only helps ensure their overall efficiency, but it is also commonly required to be covered by the manufacturer's warranty. Fortunately, at ASC Heating & Air, we offer routine, preventative AC and heating system maintenance in San Antonio, TX. 
With this service, our HVAC technicians provide a comprehensive inspection of your AC or heater to see how it is running and how it can be improved. From there, they provide your heating or cooling system with a tune-up to help it operate more efficiently. In doing so, our HVAC maintenance can help prevent future breakdowns and potentially even lower your energy bill.
Our Service Areas
With a foundation built on the principles of honesty, quality, craftsmanship, and integrity, our business strives to set itself apart from the hoard of companies clamoring for attention in the Alamo City and the greater San Antonio include:
Kirby
Terrell Hills
Balcones Heights
Learn About Our VIP Membership:
Our membership offers you the peace of mind for your heating and cooling system year round.
Priority Service
($40 VALUE)

Discounted Pricing
10% off Repairs and
5% off a new system ($300 Value)

No Additional Emergency or After Hour Fees
($40 Value Per Trip)
Two Maintenances A Year
($218 VALUE)
5 Guarantees for Our Customers:
At ASC Heating & Air, we understand that there are dozens of HVAC companies serving homes and businesses in San Antonio, TX. To help us stand out from the crowd, we not only provide first-rate AC and heating services, but we also offer our customers five guarantees for utilizing our services. These guarantees include:
PROPERTY PROTECTION GUARANTEE
If our workers damage any of your property, we will repair it or pay to have it repaired by a professional.
PROFESSIONALISM GUARANTEE
All employees and company representatives will introduce themselves and keep you informed while work is being performed. There will be no foul language or inappropriate dress.
INSURANCE LIABILITY GUARANTEE
To protect you from catastrophic loss, we carry a $1 Million insurance liability policy to protect you while we work in your home.
7-DAY-A-WEEK SERVICE GUARANTEE
If something happens to your unit, no matter what hour or day, we will have someone take care of it as soon as possible. Our phones are manned 24/7 for your convenience.
UNIT SATISFACTION GUARANTEE
Our manufacturers adhere to their own strict policies on their units. They are willing to replace your unit if you have a major component failure inside the 1st year. If the manufacturer decides to replace your unit, ASC will take on the labor expense for the replacement.
Don't Just Take Our Word For It
Leave Us a Review on Our Services
Schedule Expert HVAC Services in San Antonio, Texas Today!
ASC Heating & Air offers friendly and professional HVAC services in San Antonio, TX, including AC repair, AC installation, and so much more. Our family-owned and operated company is committed to providing high-quality HVAC services that help address your heating and cooling needs in order to help make your home or business as comfortable as possible. Contact us today to learn more or schedule our HVAC services!
Summer is the time of year when many San Antonio families hit the road or take to the skies on vacation. Getting away from...
read more
R22 REFRIGERATION: Clean Air Act Compliance, San Antonio, TX If you are in the San Antonio, Texas region, the team at ASC...
read more