R22 REFRIGERATION: Clean Air Act Compliance, San Antonio, TX
If you are in the San Antonio, Texas region, the team at ASC Heating and Air are qualified to assist you with all of your heating and air conditioning needs, this is including the R22 clean air act regulatory changes for January 2020.
Currently, there is a big industry regulatory requirement change underway and our technicians are specifically trained and certified to update your existing R22 air conditioning system so that it is compliant with the changes that are underway in regards to the Clean Air Act.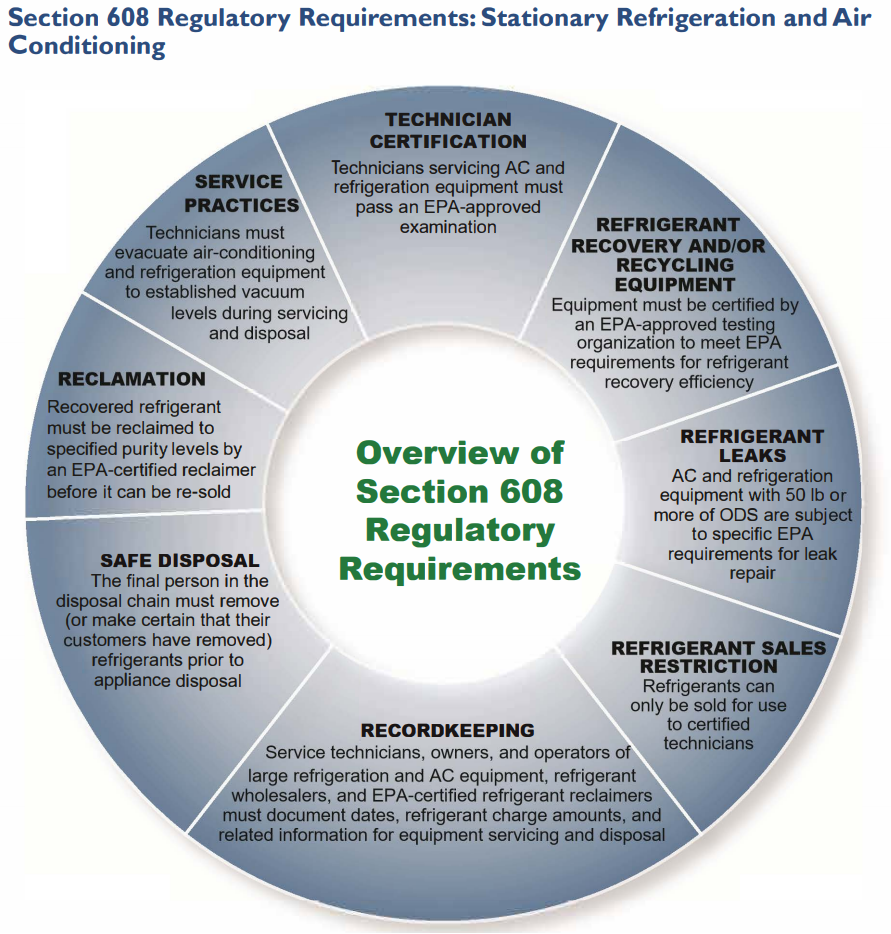 We have included some additional details regarding the Clean Air Act and the new regulatory requirements below for your review:
The Clean Air Act originated in 1963 in an effort to stem the tide of air pollution. It has gone through several revisions. But here are some further details to bring you up to speed.
The Environmental Protection Agency was created in December of 1973.
The Clean Air Act of 1990 is when refrigerants were regulated by Federal Law.
R-12, the original Freon, was banned in 1995.
In 2010, It became illegal for appliance manufacturers to use HCFC-22 in newly manufactured air conditioning units.  The substitute for high pressure systems was HFC-410a
Although, new air conditioning systems have been charged with R-410a since 2010, R-22 has still been widely used in older systems to keep them running.
In January of 2020, it became illegal to manufacture or reclaim R-22. This is the phaseout.
Any R-22 that has already been reclaimed or manufactured before January 2020, can be used, but when it is gone, the refrigerant will be banned in the USA for good.
Things to know:
 Section 608 of the Clean Air act of 1990 is what pertains specifically to HVAC contractors.
ASC Heating & Air only uses EPA 608 certified technicians.
ASC adheres to the laws pertaining to the EPA regulations.
All refrigerant used is documented by each technician and installer in our system, so we can track exactly how much refrigerant we have used in your home, and since we started this business.
ASC knows that if something goes wrong with your system, most of the time you have options – which won't necessarily require changing out your entire AC system.
With the Clean Air Act it is imperative that the R22 refrigerant is replaced on your HVAC unit. This pertains primarily to older air conditioning units. (Older than 2010.) If your system is older you will need to have the service on the unit for refrigerant recovery and/or recycling and updates to stay compliant.
We are the experts in upgrading R22 units contact us today and we will get you taken care of.
Training and Certification
Technician Certification: Our technicians servicing the AC and refrigeration and HVAC equipment will be trained up, certified and cleared to proceed once they have passed an EPA-approved examination. Ensure that any work you are having done in relation to these changes is done by a trained professional. Be assured that ASC field technicians are always up to date with the latest industry changes.
ASC Service Practices – Training and Certifications
Choosing ACS Heating and Air gets you a professional and highly trained team that understands the importance of maintaining safety through each and every step of Refrigerant Recovery and/or Recycling of the equipment for your AC unit. We take our jobs seriously and ensure that each step is performed carefully. We are certified professionals complete with EPA-approved testing. We are knowledgeable and certified to meet the EPA requirements for refrigerant recovery efficiency.
ASC Service Practices – Refrigerant Leaks
Our team is professionally trained to handle AC / HVAC refrigeration equipment for leak repair. Ensuring everything is done precisely to satisfy the specific EPA requirements.
Maintaining our team's certifications allows us to safely purchase refrigerants to get the job done. Regulations have set requirements that you must be certified in order for these to be sold only to certified technicians. ASC Heating and Air technicians maintain up to date industry certifications and training.
ASC Service Practices – Reclaiming/Recycling
We maintain an existing reclamation and recycling and safe disposal processes so that you have fewer things to worry about. We maintain the highest and best practices to make these regulatory requirements no different than our normal day to day. We give our highest consideration to every job that we do from start to finish and that hasn't changed since day one.
Our technicians always practice safety procedures while they provide servicing and disposal services.
ASC Service Practices – Recordkeeping 
Further, we pride ourselves on exemplary record keeping every step of the way. From out in the field to in the office our service technicians and team all know how to document and date thoroughly. This is something we have always done and will continue to do so. This easily satisfies one of the new regulatory requirements and we are well ahead of the game here. We've been doing high quality work since we opened our doors for business and there is no stopping that same great attention to detail and quality service for our clients.
The ASC Heating and Air team are here to take the challenges and difficulties out of your required updates to your HVAC unit. We work hard so you don't have to.
Schedule an appointment today! Contact our office (210) 934-9341 and we can get your compliance game plan underway.